Safe all winter long: Ecocool thermal covers protect temperature-sensitive pharmaceuticals, food and chemicals
Safe transport and handling of temperature-sensitive goods under difficult weather conditions
During the winter months, temperature-sensitive goods are at a higher risk of damage during transport and handling. Fortunately, sensitive pharma, food and chemical products can be protected effectively with thermal covers. Ecocool GmbH lets shipping and freight forwarders choose from a wide range of thermal covers. The selection ranges from the Eco-Light light and flexible disposable covers to the Eco-Safe reusable solution and all the way to the premium models – Eco-Safe+ and Eco-Safe++ for transporting pharmaceutical products. "Our thermal covers are especially good for keeping solvent-free paints and coatings or other frost-sensitive chemicals protected during transport, even in winter," says Dr. Florian Siedenburg, CEO of Ecocool GmbH. "Leading freight companies have relied on our 'made in Germany' thermal covers for many years. We have fast turnaround times, and we custom-make our products to precisely meet the needs of the customers involved in the logistics process."
The two premium models Eco-Safe+ and Eco-Safe++ can maintain a temperature range of 15 to 25 degrees Celsius under the most challenging conditions. "Eco-Safe++ also offers a short-term solution for the 2 to 8°C range. This is what you'd use when you just need to maintain the temperature for a short time during handling," explains Dr. Siedenburg. Both premium covers can be combined with "water-blankets" for increased thermal mass. This combination offers much better protection from temperature spikes. "This solution was conceived for shipping temperature-sensitive products along critical routes – for example, with inter-modal transport over land and air and multiple handling points along the supply chain".
The Eco-Light introductory model is a lightweight disposable cover made of single-layer bubble wrap laminated on one side with aluminium foil. This highly affordable frost protection cover takes up very little room, making it convenient in terms of transport and storage. Eco-Safe is the standard solution for single or multiple use. It consists of a double layer of bubble wrap, laminated with aluminium foil on both sides. It is used as a reusable cover in food and chemicals distribution. Large sheets are also used for shipping pharmaceuticals by air.
Eco-Safe+ was developed for use in pharma, at an ambient temperature range of 15-25°C, especially for cargo with a low thermal net weight. It can be used in combination with water-blankets for even greater protection. But pharma customers are not the only ones who prefer this solution: "Quite a number of customers in the food industry are now using Eco-Safe+ to close gaps in their refrigeration chain", explains Dr. Siedenburg.
The high-end model Eco-Safe++ is a hybrid of thermal protection and passive cooling packaging. This premium thermal cover consists of EPS (Styrofoam) insulated with Isohood-2L2 foil, combined with water-blankets. The EPS sheets can be 5 to 8 cm thick, depending on the customer's needs.
Further information:
Ecocool GmbH
Dr. Florian Siedenburg, CEO
Schiffshören 9
27572 Bremerhaven
Phone +49 471 3094050
Fax +49 471 30940529
info@ecocool.de
www.ecocool.com
Public relations:
Press'n'Relations GmbH, Berlin office
Bruno Lukas, Branch Manager
Boyenstraße 41
10115 Berlin-Mitte
Phone: +49 30 577 00-325
Fax: +49 30 577 00-324
blu@press-n-relations.de
www.press-n-relations.de
Ecocool GmbH
Ecocool was founded in 1999 by economist Heinrich Siedenburg and engineer Ulf C. Abbes. That same year, their innovative packing and insulation concepts earned Ecocool the Bremerhaven Founder's Award. Since 2015, the company has been operating under the direction of Dr. Florian Siedenburg. Ecocool cooling packaging and packaging components are becoming increasingly popular with pharmaceutical companies, online suppliers of high-grade food products, as well as shipping and logistics companies. To deal with demand, in the fall of 2015, a new production facility opened its doors in Bremerhaven. The company manufactures its products in a covered space spanning 2,000 square metres, working primarily by hand and assisted by cutting-edge machinery and equipment.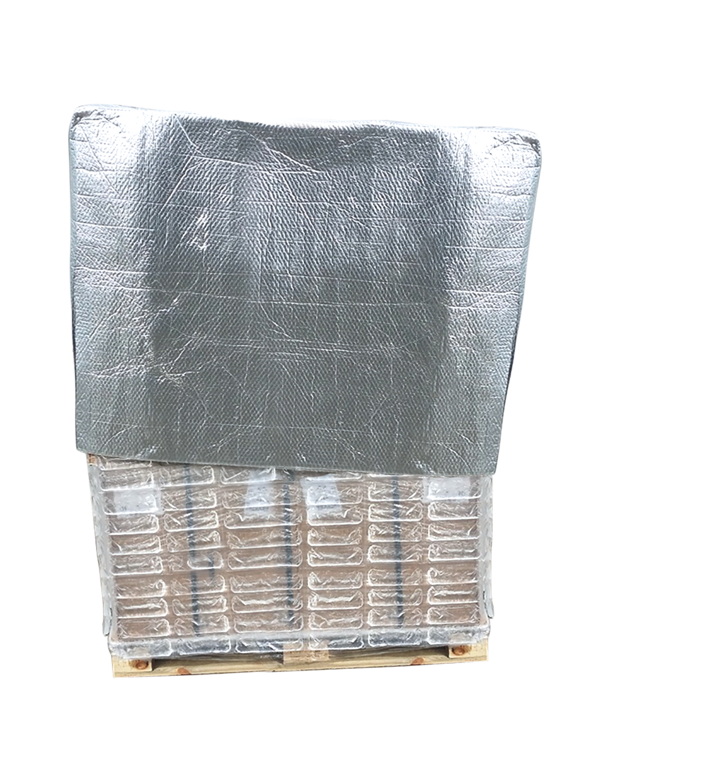 Eco-Safe thermal cover
Zum Bilder-Download in der PnR-Mediathek