A double turret boosts performance
Z.SHARK family of high-performance tufting machines now optionally available with double turret
To make sure that the Z.SHARK can use its full output capacity in an even wider range of applications, it now has the option of being fitted with a double turret instead of a single turret. Typical applications include the tufting of children's toothbrushes as well as hybrid toothbrushes and toothbrushes with different hole diameters that are partially tufted by two machines. In these cases, the double turret compensates for the lower bundle requirement per toothbrush so that the Z.SHARK can produce at its maximum speed of 1,000 tufts/minute.

Full performance in meeting all demands
This will always result in greater performance if the body to be tufted has fewer than 30 holes, "as is the case with hybrid toothbrushes with different filaments (cylindrical/tapered (chemically tapered)) and toothbrushes with different hole diameters, which are each partially tufted by two separate machines," explains Daniel Herrmann, Head of Product Management ZAHORANSKY, adding, "another possible application are children's toothbrushes with a low hole count, which can be tufted completely on a single machine." In all three of these scenarios, a Z.SHARK with a single turret reduces its maximum speed of 1,000 tufts per minute – and with it the output performance –, to adjust the tufting process to the lower hole count. "If the Z.SHARK is fitted with a double turret instead, it can take up two bodies instead of just one. This compensates for the lower bundle count required for each toothbrush and the machine can produce at full output performance," concludes Herrmann.

The Z.SHARK family of high-performance tufting machines was developed for particularly economical toothbrush production as well as the highest possible output volume with the greatest flexibility for adjustment to customer specifications. With maximum hole field dimensions of 35 x 45 mm, complex bundle positions and angles with filaments in up to three different colors can be executed. All models of the Z.SHARK series are hand-operated tufting machines. By offering various configurations, ZAHORANSKY is able to find the optimal solution for each task.
Pictures
You can find the image material on our media portal press-n-relations.amid-pr.com (search term "Z.SHARK double turret"). Of course we will also be happy to send you the file by e-mail.
Public Relations:
Press'n'Relations GmbH
Nataša Forstner, Thomas Seibold
Magirusstr. 33, 89077 Ulm
Tel. +49 (0) 731 96287-17 bzw. 19
Fax +49 (0) 731 96287-97
E-Mail: nfo@press-n-relations.de,
ts@press-n-relations.de
www.press-n-relations.de


Background information
Since 1902, the ZAHORANSKY name has stood for reliability, precision, and sophisticated technology. The foundation of the company was laid by Anton Zahoransky, who produced the first devices and machines for automation and brush production in his small workshop in Todtnau.

Building on the experiences and skills gathered since then, ZAHORANSKY today operates as a full-service provider and technology partner for companies in the brush industry, medical technology, and additional industries. With injection-molding tools and mechanical engineering and automation technology, as well as packaging lines, ZAHORANSKY covers the full range of individual demands. This is what approx. 900 employees, of which 70 are trainees, work hard at every day at ten locations in Germany, Spain, China, India, Japan, Brazil, and the US.

The system-spanning ZAHORANSKY solutions cover the entire process chain: starting with the integration of packaging technology through handling up to the programming and robotics in the production of fully automated manufacturing and assembly lines. The ZAHORANSKY technologies and services are in high demand in the following industries: household and industrial brushes, oral care, medical technology, cosmetics, consumer goods, and packaging.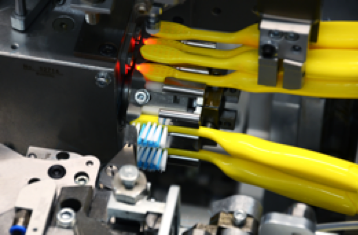 The Z.SHARK high-performance tufting machine is now also available with a double turret for holding two toothbrush bodies.
Zum Bilder-Download in der PnR-Mediathek